Analyse air quality in real time
LuSi is your pocket gas ana­ly­sis labo­ra­tory, asses­sing the qua­lity of air as a food­s­tuff for your health and well-being. LuSi – mea­su­res and visua­li­ses a wide range of para­me­ters, such as pres­sure, tem­pe­ra­ture, humi­dity, air qua­lity, TVOC, par­ti­cu­late mat­ter and much more.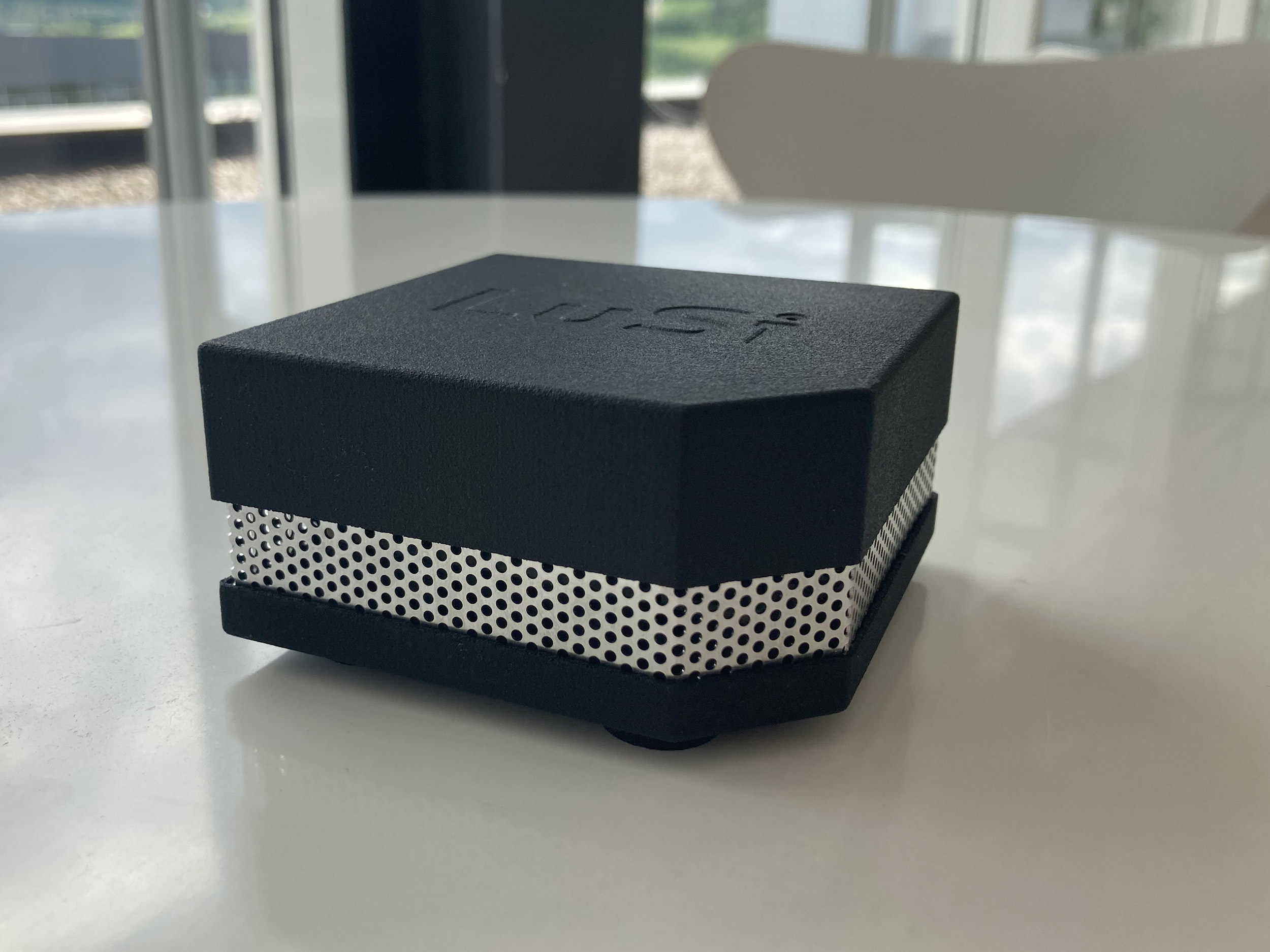 Espe­ci­ally the fine dust clas­ses are mea­su­red in more detail than usual. Inno­va­tive sen­sor tech­no­logy with mea­su­re­ment data acqui­si­tion of the room air and data pro­ces­sing make this pos­si­ble for the first time.
Your advan­ta­ges at a glance:
Qua­lity of your indoor air in real time
User-fri­endly air moni­to­ring and visualisation
Health and energy manage­ment plat­form for air monitoring
Clear, fully auto­ma­tic data evaluation
data­base con­nec­tion via WLAN
Inte­gra­ted LED traf­fic light
Info­centre for indi­vi­dual topics on your air quality
Customers & fields of application
Pri­vate households
Well-being, health
Health­care
Pre­ven­tion, well-being, health
Com­pa­nies
Pro­cess and energy opti­mi­sa­tion, work­place safety, health
Public insti­tu­ti­ons
Work­place safety
Cul­tu­ral institutions
Muse­ums, schools, day-care cen­tres to pro­tect pain­tings from ageing
Housing asso­cia­ti­ons
Mould pre­ven­tion
Technical data
| | | |
| --- | --- | --- |
| Dimen­si­ons | | 80 x 80 x 485 mm (LxBxH) |
| Weight wit­hout con­nec­tion cable | | approx. 200g |
| Colour ver­si­ons | | black |
| Con­nec­tion values | | 220–240 V |
| CE- decla­ra­tion | | yes |
| Con­nec­tion cable | | USB C |
| Ambi­ent con­di­ti­ons, operation | | |
| › Tem­pe­ra­ture | | -10 to 50 °C |
| › Humi­dity | | 5 to 90% |
| Posi­tio­ning | | stan­ding, hanging |
| Sucked volume | | 0,5 l/​min |
| Inter­faces | | WLAN (b/​g/​n on 2,4 GHz) |
| App avai­la­bi­lity | | Play Store, App Store |
| Num­ber of mea­sura­ble variables | | 15 |
| Air qua­lity display | | 3 levels via LED display |
| | | |
| --- | --- | --- |
| Mea­su­re­ment parameters | | Mea­su­ring ranges |
| Mass fine dust PM1, PM 2,5, PM 4 and PM10 | | 0 to 1000 µg/​m³ |
| Num­ber of fine dust par­tic­les PM0.5, PM1, PM2.5, PM4, PM10 | | 0 bis 3000 Num­ber of particles/​cm³ |
| Average par­ticle size | | 0.5 to 10 µm |
| VOC index | | 1 to 500 |
| NOx index | | 1 to 500 |
| Humi­dity | | 0 to 100 % |
| Air pres­sure | | 300 to 1100 hPa |
| Tem­pe­ra­ture | | -40 to 85 °C |