IVOC‑X GmbH deve­lops, pro­du­ces and dis­tri­bu­tes inno­va­tive indus­trial, ther­mal-cata­ly­tic air puri­fi­ca­tion sys­tems for the reduc­tion of gas­eous air pol­lut­ants and odours in pro­cess exhaust air. IVOC‑X (Inno­va­tive Vola­tile Orga­nic Com­pound – OXi­da­tion) stands for our sus­tainable tech­no­logy, pro­ducts and vision, with the aim of estab­li­shing IVOC‑X® as the lea­ding brand for puri­fied air and for impro­ved qua­lity of life.
As an inno­va­tive mecha­ni­cal engi­nee­ring com­pany in the air tech­no­logy mar­ket, the deve­lo­p­ment, pro­duc­tion and mar­ke­ting of highly effi­ci­ent cata­ly­tic air puri­fi­ca­tion sys­tems are the focus of our work. The range of ser­vices is sup­ple­men­ted by ser­vices such as con­sul­ting, pol­lutant ana­ly­sis, ser­vice and main­ten­ance. Our cus­to­mers are com­pa­nies in the form of end users as well as plant manu­fac­tu­rers who release VOCs (e.g. sol­vents, vapours or odo­rous sub­s­tan­ces) in their pro­duc­tion processes.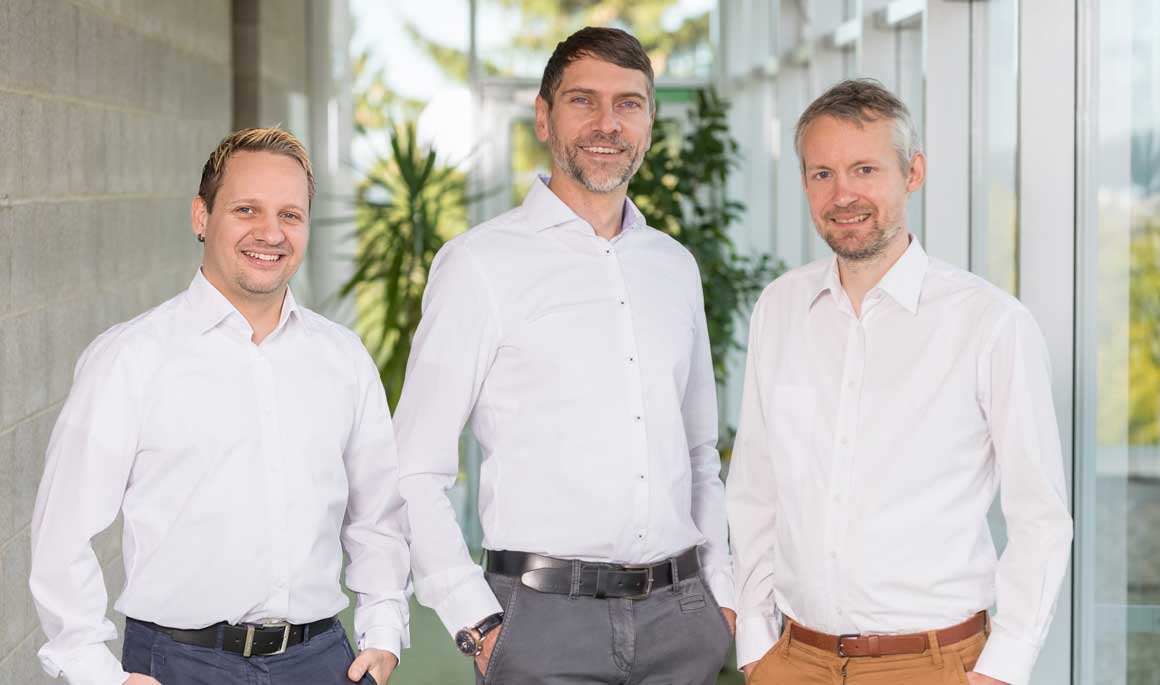 Dr. Thomas Krech
Mana­ging Director
Dis­tri­bu­tion
Pro­duct Management
Deve­lo­p­ment
Mar­ke­ting
Dennis Sippach
Mana­ging Director
Dis­tri­bu­tion
Finance/​Controlling
Pro­ject Management
Qua­lity Management
Torsten Langer
Head of con­struc­tion, aut­ho­ri­zed officer

Mecha­nics
Electrics
Software
Purchasing
The IVOC‑X GmbH was foun­ded on 21.02.2019 in Jena from the IVOC‑X GbR. The team has many years of inter­na­tio­nal expe­ri­ence in the field of air puri­fi­ca­tion systems.
Awards
ThEx-Award 2019
The prize for foun­ders from Thu­rin­gia is awar­ded annu­ally in three cate­go­ries. The team of foun­ders pre­vai­led against 85 other start-ups in the cate­gory of idea owners and recei­ved the highly endo­wed 1st prize.
Founder Transfer Prize
from Fried­rich Schil­ler Uni­ver­sity and Ernst Abbe Uni­ver­sity, IVOC‑X GmbH recei­ved the award in its first year of exis­tence. The jury was con­vin­ced by the tech­no­logy, which enab­les com­ple­tely new pro­ducts with high rele­vance for the pro­tec­tion of the envi­ron­ment and thus also for society through energy-opti­mi­zed air pol­lu­tion control.
Partner
Through our mem­bers­hip in pro­fes­sio­nal asso­cia­ti­ons as well as coope­ra­tion with renow­ned rese­arch insti­tu­tes and part­ner com­pa­nies, we keep our com­pre­hen­sive exper­tise in the field of exhaust air puri­fi­ca­tion tech­no­logy always up-to-date and at the same time main­tain an under­stan­ding of our cus­to­mers‹ needs.