Efficient thermal utilization of waste gases in the printing industry
Standardized plant technology for the recycling of solvents
Sol­vent recy­cling as a sus­tainable solu­tion approach in the prin­ting indus­try is not always eco­no­mi­c­ally fea­si­ble. Ther­mal recy­cling and use of the oxi­da­tion heat is the­re­fore the most sen­si­ble way to offer eco­no­mic advan­ta­ges. Excess heat from the oxi­da­tion pro­cess of the pol­lut­ants can be fed back into the prin­ting sys­tem and used for the dry­ing pro­cess if requi­red. The energy manage­ment sys­tem of IVOC‑X enab­les the direct heat recir­cu­la­tion of a hot gas stream at 320° C into the dry­ing areas without the need for an addi­tio­nal heat trans­fer medium. For this pur­pose, IVOC‑X mainly relies on regio­nal sup­pliers and raw mate­ri­als from sus­tainable sources.
full Flexo+Tief-Druck-article as pdf: 2020–03-31_Flexo+Tief-Druck_Nachhaltigkeit_Recycling_Clean Air_I­VOC-X_V1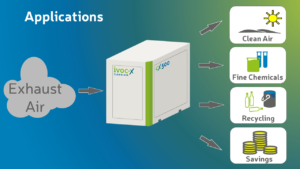 Please also visit the web­site of our sales part­ner Flexo Tech­no­logy Ser­vice FTS GmbH.